Have you ever wanted to visit Iceland? Accommodations can be expensive. That being said, Iceland is a nature paradise and if you love the outdoors, consider camping in Iceland. In this post, you can learn all about camping in Iceland for free!
More...
Iceland is famous for waterfalls, volcanos, glaciers, geysers and national parks. This makes a great trip for couples, solo travellers and, even travelling with kids. To see Iceland's true beauty, it would be best to drive around it.
Driving the Ring Road can take 7-8 days to complete. It will take some planning in advance with what you bring, but there are plenty of places to stay in Iceland when you are camping.
You can always stay at designated campgrounds. If you have a bit of adventure in you, why not go off the beaten path? You can camp for free in Iceland, but there are some important rules you have to know.
In this post, you will learn those rules and what things to consider in planning your Icelandic adventure.
To help keep this site going, I use some affiliate links. These links will take you to trusted travel partners and it costs you nothing extra to purchase a product or use their service. I may receive a small commission, which I use to keep this site running.
If you found this site useful and want to support it, all you have to do is use the links. It's that simple.
Some people just want to say thanks by buying me a coffee. I do love coffee. Like a lot. I have seven different ways to make coffee at home....okay maybe it's an obsession.
Before you go to Iceland don't forget Your SIM Card!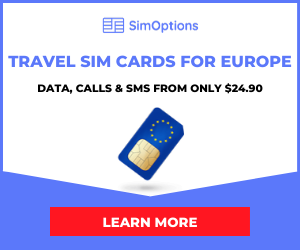 Best of Iceland Travel Guides
Reading travel books before your trip can give you great ideas for your adventure. Ordering travel books from Better World Books helps promote literacy and sustainability.
Keflavik Airport to Reykjavik
First, you have to get to Iceland. You will book your flight to the capital, Reykjavik. Keflavik Airport (KEF) is about 45 minutes outside of Reykjavik. Once you arrive in Iceland, you will need transport from Keflavik Airport to Reykjavik.
Taking a Reykjavik taxi can cost you between USD 125 to $160.
If you are looking for the cheapest airport transfers in Iceland, there is a wide selection of buses that do the trek. FlyBus in Iceland is a popular one and one of the most affordable. Some buses will drop you off at some hotels if you request it.
Some buses will take you from Keflavik Airport or Reykjavik to the Blue Lagoon.
Before you go!
Book your airport bus transfer from Keflavik to Reykjavik now to ensure you have a spot when you get there!
Places to Stay in Iceland Before You Camp
Camping in Iceland can save you a lot of money. At the start of your trip, you will need to find accommodations. You will also need at least a night at the end of your journey. Spending a day or two exploring Reykjavik is well worth your time.
If you just need a bed and want it cheap, consider a hostel. If you need space and privacy, consider a hotel or Airbnb.
If you are looking for a place to stay in Iceland, be sure to check the location.
When you search Reykjavik, it will often include surrounding cities like Grindavik and Keflavik, which puts you 30km+ outside of Reykjavik.
Grindavik is 5km from Iceland's famous Blue Lagoon.
If that is one of your things to do in Iceland, then great! (The starting price per person is CAD 82 (USD 70)).
Hotels
A hotel room with a shared bath can start around CAD 100 (USD 80), and prices with a private bath are CAD 140 (USD 115) and up. Just be careful when booking, sometimes the hostels and hotels are listed together on some sites. Make sure you know what you are getting.
Try HotelsCombined below. HotelsCombined has many hotels, hostels and some apartments listed, so this is a great place to start looking for a place to stay in Reykjavik for that one or two nights before and after your camping trip.
Give it a try and see what the prices are like for places to stay in Reykjavik. You can easily compare, then find what works best for you. It's a big time saver.
Hostels
Staying in a hostel in Reykjavik will start at about CAD 40 (USD 32) for a dorm room bed, whereas a private room starts at around CAD 100 (USD 80).

Check Hostels in Reykjavik here
I love live music. The KEX Hostel in Reykjavik has hosted some great live bands. Like Iceland's own Of Monsters and Men. Check out the KEX Hostel here. It's pretty awesome.
Of Monsters and Men performing Little Talks at KEX Hostel in Reykjavik.
Renting a Car in Iceland
Renting a car in Iceland will be one of the most important things to plan for your camping trip in Iceland. Choosing the right type of vehicle can make a big difference.
If your plan is to camp for free in Iceland, you want a vehicle that is capable of handling any terrain. Your vehicle is your biggest safety tool.
There will be times as you drive around Iceland that you will think you are on the moon. Rent a vehicle that will be able to handle a moonscape. So a 4x4 is a must if you plan on driving on the F-Roads.
If you are planning to stick to the paved roads, anything will do. A good rule of thumb is to rent the smallest size vehicle that you could possibly use. That's not saying get the smallest vehicle possible, but the smallest vehicle that will suit your needs.
Often the smallest vehicles get rented out first, so you may end up getting offered an upgrade to a bigger vehicle for a lower rate than you would have paid had you picked a larger vehicle at the time of booking.
I like using Auto Europe when I rent a car in Europe. They compare car rental companies and their prices. It makes it so much easier to pick one.
What Size of Car to Rent
Don't rent a two-door hatchback, and hope to get a Toyota 4-Runner. You will be sadly disappointed. You could potentially even get the upgrade for a small fee or even free, but only if you are nice. Rental agents are people too. Treat them nicely, and they will treat you nicely.
Friends of mine rented a Toyota Rav4 for their visit to Iceland. They got upgraded to a Toyota Land Cruiser and said that the bigger vehicle was far more capable in the terrain. But aren't you travelling on real roads? Well, yes.....and no. How adventurous are you? More on that ahead.
Camping in Iceland for Free: The Rules
There are a few ways to camp when you visit Iceland. Let's talk about the rules first.
If you are tenting, you are allowed to set up a tent for one night on any uncultivated public land. You would need permission from the owner to camp on any private or farmland.
In the southern part of Iceland, it is illegal to camp outside designated campsites. (Regardless if you are in a tent). This also goes for any of Iceland's three National Parks. Camping must be within designated campsites.
If you do choose to camp outside of campsites, always leave nature the way you found it. Clean up after yourself and take all your garbage with you.
It is also strictly prohibited to defecate or urinate on public or private land. If you are caught, you will be forced to clean up (that doesn't sound fun). Also, please don't have any open fires.
When you are camping with a camper van or anything of the sort, you must camp in designated campsites.
If you aren't interested in camping on public land, are camping with a camper, or are looking for a designated campsite, there are many places to camp for a fee.
---
Where to Camp in Iceland - Camping Map
Even if your plan is to camp for free in Iceland, it's always good to have a backup plan. Maybe you can't find a place to set up due to the weather, or it's late in the day.
Here is a fantastic map of campsites (official ones) all throughout Iceland. Click on the icons and get a picture with a little description. Some are campsites, some cabins, and even hostels listed.
This map has campgrounds where there is a fee associated. The great part of this map is it has all the information about each campground. If you can't find a place to pitch a tent for free, then this is the map to find a place close by.
Get New and Used Maps from Better World Books.
Let's support sustainable companies.
---
Camping in Iceland: What Gear to Bring?
If you are just planning a camping trip to Iceland then you may want to bring some gear from home. This is fine if you are just visiting Iceland and then heading home.
If your plan is to continue on to Europe for more adventures, you may want to consider renting some additional gear.
Likewise, if you can't bring all the gear. You aren't going to bring a cooler, but you will need one. No worries, you can rent a cooler from local grocery stores for around CAD 40 (USD 32) for 8 nights/9 days.
Pots, pans and a stove might be something you want to fly with. Check with the airline before you go. Many have restrictions about travelling with fuel canisters if they have been used, even if they are empty. This is where renting things when you get there can come in handy.
Here are some important things you will need for your camping trip to Iceland:
Things to Buy Before You Go
Things to Consider Renting There
If you need to rent anything for your camping trip in Iceland, one of my favourite sources for any gear is Iceland Camping Equipment Rental.
They literally have everything. It's definitely worth checking out.
Camping in Iceland: Package Style
If you are looking for a camping experience but want it all planned out for you, consider booking through a company. They will provide you with:
An eight-day plan, for example, with the above included, starts at about CAD 1100 (USD 900) per person (based on 4 people). You can add extra sightseeing tours along the way.
If this is you, here's a fantastic site. Guide to Iceland.
---
Tips for Camping in Iceland
Clothing
You must have the right clothing when you are camping and hiking in Iceland. Getting a good wind and waterproof jacket and pants is a must. It might be beautiful and sunny during the day, then at night, the wind can really pick up. June to October you will find the most rain, so make sure you are prepared.
Temperatures in Iceland on average, are between -10c and +10c. Of course, it can get warmer or colder than that. Make sure to check the temperature for the time of year you plan on going, and bring the appropriate clothing.
The terrain is ever-changing. You might be on loose rocks on the beach one day, hiking a volcano the next, and exploring the slippery rocks around a beautiful waterfall. Make sure you have some sturdy footwear and invest in some quality hiking boots. Save the flip-flops for the pools. Hope for the best, but prepare for the worst.
Are you in the market for some hiking boots? Here is a fantastic in-depth look at the Best Wide Toe Box Shoes For Hiking by my friends at VeraVise WOW Travel.
Where to Shower in Iceland
The nice thing about planning your own trip is you can save a lot of money. Again you can pitch a tent anywhere on public land. Of course, you won't have a washroom or shower.
Icelanders take their swimming pools very seriously. This is a great way to enjoy something that is a big part of Icelandic culture and get a nice hot shower at the same time. So bring your trunks and your travel towel.
All towns have swimming pools where you can have a shower and swim for cheap. There is some etiquette in regards to using the swimming pool facilities. This great video gives you a humorous look at pool etiquette.
Where to Get Water in Iceland
Water will be very important for your trip. Make sure you have enough water bottles on hand for all your drinking and cooking needs. You may want to get a larger water container so that you always have enough. You can fill your personal water bottles up from there.
Water is available for free at all gas stations. Plan ahead and fill up your water whenever you can.
---
Using your Mobile Phone in Iceland
Getting your cell phone unlocked or buying an unlocked cell phone for travelling purposes will save you money for any trip.
A lot of companies now offer "Roam Like Home" plans. These can cost $12 a day. Times that by 7 days, that's $84. You can read my post on the different options when travelling with your cell phone here.
Getting a SIM Card in Iceland
Look into getting a local SIM card. Síminn is the largest and oldest cell phone company in Iceland. That can keep you up to date on weather and road conditions and keep your Instagram followers up to date on your trip too. The Síminn SIM card should keep you connected all along the Ring Road and Golden Circle.
The other option is to get a prepaid SIM card for Iceland before you go.
---
Weather in Iceland
It is always a good idea to check the local weather and road conditions regularly. Here's a great link to keep you up to date: Road Conditions and Weather
---
Useful Apps for Safety
112 Iceland
Here is a must-have app when you are camping in Iceland to help keep you safe and provide you information. The 112 Iceland app allows you to call for help at the push of a button. At the push of a button, it sends an SMS text, along with your GPS location. You can also just leave a checkpoint as you travel, which helps give them more information in case of an emergency.
They also have travel alerts and other great safety information on their Safe Travel site here.
what3words App
what3words could save your life. A pretty bold statement, but when you see what it can do, you'll agree.
It breaks the world down into 3 m (10ft) squares and assigns three words to each square. If you get lost or are in trouble, you can find the three words for your exact location. Now help can easily find you.
The police around the world have started using this to help locate people who get lost.
Download the app, and now you have an emergency backup plan.
You can also use it to give your exact location to others when you meet up on your travels.
It's kind of fun to play around and see. Give it a try!
Google Maps
Google Maps is a great way to have a map if you download an Offline map first. You have to have a Google account.
It's best to update your map in Wi-Fi just before you head out. It also only remains for 30 days before you have to redownload it or update it.
Map of Iceland Offline
Only available on Android, this app offline works without connecting to the Internet. No need to pay for internet in roaming.
---
Driving Challenges in Iceland
There are many challenges when driving in Iceland. The Ring Road that runs around the whole country is paved. So any vehicle can handle that. But you want an adventure! It is illegal to go off-roading in Iceland.
There are many F-roads, which will provide you with enough of a driving challenge. Always stay on the roads. In the summertime, this is especially important to avoid damaging the delicate plants.
In the wintertime, you have to be cautious of what's underneath that snow.
Evaluate What You are Driving On
Driving in Iceland demands your full attention. River crossings can be exhilarating and fun but tricky. Make sure you pick a place to cross where it's not too deep. Walk across with a stick and see if it's too deep.
If you aren't willing to cross a river it walking, don't cross the river with the vehicle. The terrain in Iceland is always changing.
You can be following an F-road one minute, and the next minute it can seemingly disappear or be hard to follow. So drive slowly and evaluate what you are driving on.
Tire Tips
In the tougher environments, you may have to deflate and inflate the tires depending on what type of surface you are on.
Deflated tires give more contact to the terrain and a soft ride on a rough road. Watch out for long narrow bridges.
They can be wide enough for only one vehicle, so take a look before you cross to ensure there isn't another vehicle coming.
---
Learn From Other's Experiences
Friends of mine were driving on an F-Road in Iceland (or according to their map was a road). It was made up of medium-sized rocks (see pictures below).
At one point, they got stuck as they sunk into the rocks. It was in the late afternoon and would get dark soon.
Creative thinking got them out, but a little panic may have set in. So always evaluate what you will be driving on. It will help keep you out of trouble.
---
Conclusion & Resources
Visiting Iceland is an experience you will never forget. Being an island contributes to its uniqueness.
The landscape is always changing, from green fields and rolling hills to volcanos and geysers. There is no better way to experience Iceland than by hitting the Ring Road. Do some research, and you will start to get the bug.
Planning your own camping trip can make it a more affordable trip so you can afford to do some tours, like whale watching, take a dip in the Blue Lagoon, or sail to Vigur Island to see the Puffins.
There are so many things to see and do when you visit Iceland. Camping in Iceland for free could be the adventure for you.
---